Hanz Brand Change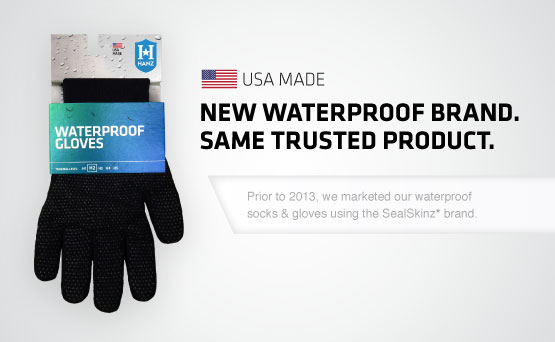 Why the Change?
Made in the USA
Hanz Extremity Wear is committed to designing and manufacturing 100% of our products in the USA, while other manufacturers of waterproof socks and gloves have chosen to offshore their design and manufacturing.
It's important to us and to our customers – now, more than ever.
We're More Than Just Waterproof
Hanz Extremity Wear has innovated a wide range of extremity wear products, including flame-resistant gloves to protect our servicemen and servicewomen. We do more than just waterproof apparel, and the Hanz brand better reflects the diversity of our products.
When is it Changing?
The change is effective immediately. Our Hanz® products are now available. In addition, we will be selling existing stock with the SealSkinz brand while supplies last. Once existing inventory is depleted, we will be selling our waterproof socks and gloves exclusively under the Hanz® brand.
How will this impact my store's customers and staff?
There will be virtually no impact to store customers and staff.
Our high-performance waterproof products remain unchanged.
The company's Web site (www.hanzusa.com) will communicate the change.
Live, toll-free phone support is also available for any store customers or staff who may have questions. That number is toll free (800) 868-2629.
Will there be any change to product or inventory?
There are no changes to the product. Only the name has changed. After we exhaust our existing stock (no later than February 21, 2013), any inventory replenishments will be shipped under the new Hanz® brand.
The packaging of the products is nearly identical so that they can be effectively merchandized together.
There will be no change in the inventory stock ordering numbers or UPC codes, so that re-ordering and tracking is made simple.
How will service be handled for retailers and distribution partners?
Our customer service department will feature extended weekday service hours, from 9:00a – 8:00pm Eastern Standard Time.
How will this affect accounting or billing?
There will be no change in accounting or billing.
All questions regarding accounting and billing, for activity before or after the brand change, will be handled using our standard contact information.
What is needed/expected from me, the retailer/distributor?
We appreciate that you have a lot of responsibilities, and our goal is to make this transition seamless for you and your customers.
In the coming weeks, we will be producing a new graphics package for your website and materials.
We simply ask that if you need anything, contact us.
We're happy to help and will respond promptly.
Are there any other changes anticipated?
There are no other changes anticipated. In the coming months we will have a range of new products to review for interested partners.
If I have questions, who should I contact?
Amy Williams
email: [email protected]
Hanz Extremity Wear
*SealSkinz is a registered trademark of SealSkinz, Ltd.
FOR MORE INFORMATION, PLEASE CONTACT:
Hanz Extremity Wear
Amy Williams
[email protected]
1020 Hamilton Road
Duarte, California 91010
TEL: (800) 868-2629
FAX: (800) 216-9938

Made in the USA
HANZ EXTREMITY WEAR IS A FAMILY-OWNED
CALIFORNIA CORPORATION WITH HEADQUARTERS IN
WASHINGTON STATE, USA.